Interior Alaska 2019
Join the Master of Agribusiness program and Kansas Farm Bureau September 2019 for an interior farm and ag tour of Alaska.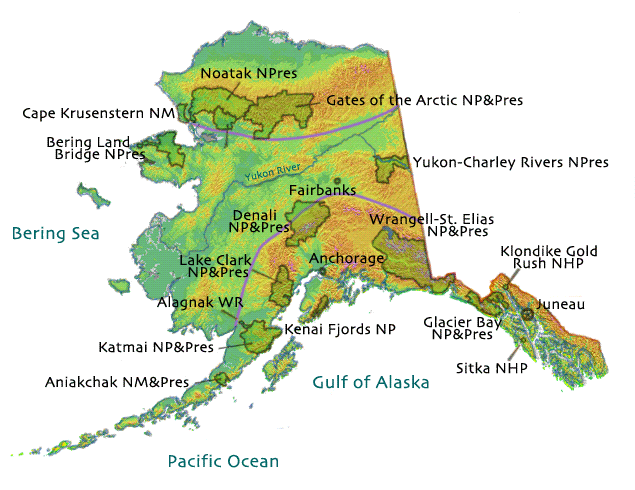 Enjoy the natural beauty of the Alaskan interior with stops in Anchorage, Kenai Fjords National Park, Wasilla, Denali National Park and Fairbanks. While there, we'll visit the Alaskan state fair and learn about unique Alaskan agriculture including Birch syrup and Alaskan Musk Ox.
For more information, contact Mary Bowen at mjbowen@ksu.edu or 785-532-4435.

Tentative Itinerary:
September 1– Arrive Anchorage
Bordered by the shores of Cook Inlet, Anchorage stands as an enchanting metropolis surrounded by rugged wilderness. There are no activities planned today, so the entire day is yours to explore on your own or participate in optional excursions.
September 2 – Kenai Fjords National Park
This morning you will travel south along the scenic Turnagain Arm on the Seward Highway, designated an All-American Road. You will travel past the small mountain community of Girdwood. Now known for its ski resort on Mt. Alyeska, the town was moved 2.5 miles (4 km) up the valley after the devastating Good Friday Earthquake of 1964, when the land under the town site subsided into Turnagain Arm, putting much of the town below high tide. The Kenai Peninsula is a popular destination for locals and visitors alike, combining amazing scenery with a variety of activities for people of all ages and abilities. Seward lies at the head of Resurrection Bay and is a year-round port surrounded by beautiful mountains.
Climb aboard a sightseeing vessel to explore the spectacular Alaskan marine ecosystem of Kenai Fjords National Park. You are likely to encounter Steller sea lions, sea otters, harbor seals, and multiple seabirds like puffins and cormorants. With luck, you may even catch glimpses of humpback whales, orcas, and porpoises traveling through Resurrection Bay. This six-hour cruise will take you alongside active tidewater glaciers, where you may see chunks of glacier ice "calving" into the water. A buffet lunch is included onboard.
September 3 – Alaska State Fair
Today you will have the opportunity to visit the Alaska State Fair. Nestled in the heart of the Chugach Mountains, in the fertile Matanuska-Susitna Valley, the fair is home to an abundance of diverse vendors, food to please every palate, rides, concerts, acrobats, animals, exceptional educational exhibits, record-setting giant vegetables and beautiful flower gardens. Each fall, the Fair provides the perfect setting for Alaska's last blast of summer, and is a showcase of Alaska's uniqueness and beauty.
September 4 – Matanuska Valley Farms
After breakfast at the hotel enjoy a guided sightseeing tour of local farms in the area. Visit the Alaska Musk Ox Farm. This non-profit farm is dedicated to the domestication of the musk ox, an Ice Age mammal. Known to Alaska Natives as Oomingmak, which means the "The bearded one" this once-endangered animal produces an annual harvest of Qiviut, the finest wool in the world. You will gain a close up experience through a guided tour, engaging exhibits, and a gift shop featuring some of the world's only gently hand-combed qiviut fiber, qiviut yarn, and qiviut garments. Next explore the Reindeer Farm. Your Reindeer Farm tour will begin with a 10-15 minute informative lesson about Alaska's reindeer. Each visitor will get a chance to hand feed the reindeer. You will also get to meet Dolly the Bison, hand feed elk, pet and hold bunnies, and look for eggs in the chicken coop.
September 5 – Palmer/Wasilla to Talkeetna
This morning discover the fertile Matanuska-Susitna Valley as you visit several local farms. Palmer and Wasilla are home to a variety of dairy, vegetable, and meat farms. Possible farm visits include the Stockwell Farm, the Vanderweele Farm, the Havemeister Dairy Farm, and the Matanuska Experimental Farm. Get an up-close look at their processes and learn more about what makes this part of Alaska so agriculturally important.
In the afternoon, travel to Talkeetna where you will visit Kahiltna Birch Works, where birch syrup is turned into a variety of products including ice cream and caramels. Learn how sap collection works and try a sample of raw sap. Watch as the sap is turned into syrup and see how syrup changes through the short harvest season. Lastly try a variety of birch and berry products, all made locally.
September 6 – Talkeetna to Denali
Enjoy a leisurely morning before boarding the Alaska Railroad for luxury dome rail service to Denali. Lunch is included onboard as you enjoy your scenic passage. The deluxe rail cars offer panoramic views of the surrounding landscape and potential wildlife sightings. On the lower level of Gold Star railcars, enjoy a full-service dining room; passage tickets include meals, all soft beverages and two complimentary adult beverages per trip for passengers over 21.
Check-into your hotel upon arrival at the Denali Park Entrance. In the evening learn more about this park in a fun way at the Cabin Night Dinner Theater. Through music, dance, and delicious food the interesting characters of Cabin Night will tell tales of how the park came to be.
September 7 – Denali National Park
After breakfast travel into Denali National Park on the Tundra Wilderness Tour. Denali National Park encompasses the heart of the 600-mile long Alaska Range, a stunning chain of peaks with many over 10,000 feet tall. The crown jewel of these mountains is Denali, meaning "The High One" in Athabascan, the tallest peak in North America at 20,310 feet. Traveling deep into the park, the Tundra Wilderness Tour offers a sub-arctic experience like no other. Incredible scenery, a narrated history of Denali National Park, and some of the best opportunities to view and photograph wildlife like Dall sheep, moose, caribou, wolves, and grizzly bears. When Denali is visible, it may be possible to travel to Stony Hill Overlook and view the entire mountain from base to summit. A boxed snack and hot beverages are offered on the tour. Upon return to the park entrance, you will have the remainder of the day to rest or explore on your own.
September 8 - Denali National Park Entrance to Fairbanks
Journey further north this morning to Fairbanks. Situated at the heart of the Tanana River Valley, Fairbanks is a city that combines modern amenities with a quintessentially Alaskan frontier spirit. Commonly known as the "Gateway to the Arctic," the second-largest city in Alaska has a colorful history dating back to the late 1800s and the discovery of gold in the area. Located close to the center of the state, Fairbanks has the widest temperature range of any city on Earth, with temperatures dropping below -65F (-55C) in the winters, and rising over 100F (38C) in the summers.
Upon arrival visit the Antique Auto Museum. Discover fabulous historic fashions and remarkable antique cars that show how automobile and clothing design evolved dramatically from the Victorian Age through the Art Deco era. See Alaska's first car and explore the Territory's unusual automotive history through exhibits, photographs and archival videos. More than 100 vintage costumes are on display, as well as special clothing exhibits.
At the conclusion of your museum visit enjoy a cup of hot stew for lunch before boarding the Riverboat Discovery. Take a gentle cruise down the Chena River aboard a Mississippi-style sternwheeler. Your four-mile journey takes you to a recreated native Athabascan village, complete with log houses, a well-stocked smoke house, and an authentic trapper's cache. This is a great opportunity to see many of the skills used by Athabascans. Observe demonstrations of the techniques that were used for activities like salmon fishing and curing, dog handling, leather-working and tanning—traditional processes that are rarely used today.
September 9 – Fairbanks / Delta Junction
Today you will travel to the small community of Delta Junction known for its spectacular scenery and fertile farmlands. You will spend the day touring local farms and ranches, learning about how the midnight sun creates unique produce and farming conditions. Lunch and dinner are included in Delta Junction, provided by local organizations and offering fresh produce and meats from the farms you are visiting.
September 10 – Depart Fairbanks for home