The Global Agribusiness Puzzle - Kansas City 2009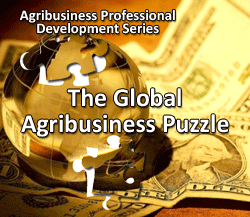 The third MAB Professional Development Conference: The Global Agribusiness Puzzle was August 27-28, 2009 in Kansas City, MO at the Embassy Suites Kansas City - International Airport. More than 45 agribusiness industry professionals attended the event to hear the latest on three key topics each addressed from multiple perspectives: effects of climate change regulation, issues with the economic recession, and managing risk in a volatile commodity market.
"I found this event very informative. These topics, especially climate change regulation, are timely and will continue to be important in the future. Although, this did not help me arrive at any conclusions, it did make me more aware of the issues in general," Glenn McClelland, CEO of M2P2, LLC in Ames, Iowa, said.
Sara Wyant, President of Agri-Pulse Communications, gave an overview and update of cap and trade policy and climate change regulation.
"I thoroughly enjoyed the interaction we had on the climate change debate and the potential implications for agriculture. As I mentioned during my speech, the outcome of this debate will undoubtedly have more impact on the future of American Agriculture than any previous farm bill," Wyant said.
Other speakers on cap and trade included: Mike Frame, Energy Sales Director - West Region, CHS, addressing the perspective of the energy industry; Rick Krause, American Farm Bureau, providing the perspective from the agriculture industry; and Guy Trafford, Professor, Lincoln University, discussing New Zealandand Australia's cap & trade experiences and projections.
Sessions discussing issues of the economic recession included an overview of the economic meltdown by Allen Featherstone, Professor, Kansas State University, and its effect on agribusiness; Ken Keegan, Senior Vice President & Chief Risk Officer from Farm Credit Services of America shared the effects on the lending industry; Dave Brown, Product Manager – Fresh Pork for Farmland Foods supplied the agribusiness prospective; and Terry Garvert, Specialty Foodgrains Team Leader - Grain and Oilseed Supply Chain NA, Cargill, provided an update on the effects of the economic recession on international trade.
The final topic addressed during the 2-day event was managing risk in the current commodity market. Attendees heard an overview of current markets from Mike Woolverton, Professor at Kansas State University; Joe Barker, Kansas City Branch Manager of Country Hedging offered a trader's perspective; Dominic Melendez, Strategic Procurement Manager Raw Materials, Hill's Pet Nutrition, Inc. provided the agribusiness perspective; and Jane Lu Hsu, National Chung Hsing University in Taiwan gave an international grain market perspective.
In addition to hearing the latest on climate change, the recession and risk, there was opportunity for discussion and networking with fellow agribusiness professionals.
"Participants in the MAB conference represented a highly-talented and diverse set of individuals who are eager to engage speakers and each other on some of the most-pressing issues facing their industries," Wyant said.
Previous professional development events sponsored by the Master of Agribusiness program for members of the agribusiness industry have been held in Kansas City and Manhattan, Kans.
"There is more we don't know than what we do know about each of these topics. This event was timely and effective at providing us updates on topics we need to be informed about," Walden Hodges, Sales Manager for HC Brill Company, Inc. in Oak Creek, Wisc., said. "This is the third MAB event I've attended and they keep getting better."
This event was co-sponsored by: