Master of Agribusiness 20th Anniversary Celebration - 1998-2018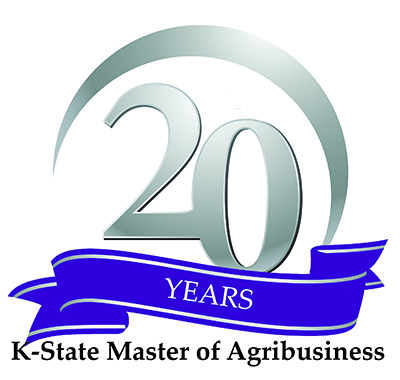 The MAB program was the first graduate agribusiness program in the nation to be offered via distance education when it was launched in 1998. Now it is celebrating 20 years of providing an award-winning, distance-education degree program that focuses on food, animal health and agribusiness management.
As part of the year-long celebration, the MAB program will host professional development events, leadership webinars, and publish articles highlighting alumni and research conducted by students throughout the program. #MABTurns20
Upcoming Events
Blockchain Drive-in Workshop, Kansas Department of Ag, Friday, October 12
AgEcon/MAB Tailgate, Saturday, October 13
Animal Health Industry Insights - Trends and Career Pathways Seminar, K-State Olathe, Tuesday, October 23
20th Anniversary Articles
MAB Alum reflects on strategic alliance evaluation
Twelve years ago, Tyson Chick completed his Master of Agribusiness thesis Strategic Alliance Evaluation and Development for Specific Assets of Agri Cooperative and AGP.
MAB Alumna looks back at thesis research on feasibility study
It's been 11 years since, Michelle (Evosovich) Adams ('06) completed her Master of Agribusiness thesis, "Feasibility Study: Converting Conventional Feed Mill to Organic Production."
K-State's Master of Agribusiness program looks back at first class after 20 years
The Master of Agribusiness (MAB) at Kansas State University was the first graduate agribusiness program in the nation to be offered via distance when it was launched in 1998. In honor of the 20th anniversary of the Master of Agribusiness program, members of the first class (#MABClassof2000) look back on their experiences in the program and share their memories.
Previous Events
Leading through Change Professional Development Event, October 19-20, 2017
Careers in Finance Webinar, October 11, 2017 (archived recording)
Agvocacy Webinar, August 22, 2017 (archived recording)
Careers in Food Webinar, September 26, 2017 (archived recording)
MAB/AgEcon Tailgate, September 30, 2017